Gloucestershire badger cull licence revoke 'threat'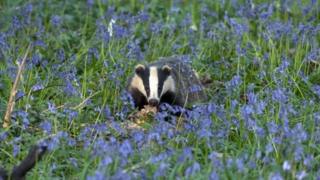 A cull licence to shoot badgers in Gloucestershire could be revoked if results don't "improve significantly", according to the Badger Trust.
GlosCon - which is carrying out the cull - has been given the ultimatum by Natural England (NE), the trust said.
The company has failed to kill the number of badgers required in the first half of the four-year government trial.
A GlosCon spokesman said discussions with NE were ongoing and it would be inappropriate to comment further.
The trial is aimed at limiting the spread of bovine tuberculosis (TB), which the government insists is necessary, but campaigners argue is inhumane and ineffective.
'Not happen again'
More than 29,000 cattle were slaughtered in the UK last year because of the spread of TB.
The pilot cull began in 2013 in parts of west Somerset and west Gloucestershire and aims to kill 70% of the initial badger population.
During the first year of the pilot in Gloucestershire, some 921 badgers were shot dead, falling far short of the minimum target of 1,650. Last year, the target was reduced to 615 but only 274 were culled.
In a letter to the Badger Trust, seen by the BBC, Natural England said it has asked GlosCon to "explain why this happened and the measures that it is putting in place to ensure that this will not happen in year three".
"The outcome of these discussions will inform Natural England's decision whether it will authorise a cull in Gloucestershire in 2015 or indeed whether or not it will revoke the cull company's licence," wrote Julie Lunt, head of legal services for the government adviser.
A Natural England spokeswoman added they had written to GlosCon asking for feedback "to help us understand whether there were any lessons learned during their culling operations in 2014 which had implications for achieving numbers".
"We will be in regular dialogue with the company over the coming weeks. It is for them to provide us with a plan of how they will meet future targets, in line with licensing requirements," said the spokeswoman.