Gloucester's Quayside and Blackfriars regeneration plan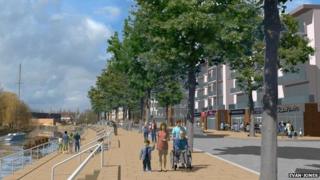 A £135m masterplan to regenerate land across the Quayside and Blackfriars sites in Gloucester has been presented to potential investors.
The scheme, which includes waterfront houses, has been drawn up by Gloucester and Gloucestershire councils.
It is not the first time plans have been unveiled for the area.
But Gloucestershire Council leader Mark Hawthorne said it was the "first time all the elements have finally come together to make this happen".
The plans include about 2,000 new homes, a tree-lined avenue along the river and an overhaul of the Shire Hall offices.
Also in the proposals is the transformation of Gloucester Prison into accommodation.
City and Country Residential has already bought the building, which has stood derelict since it closed in 2013.
'Mystified'
But Hugh Worsnip, from Gloucester Civic Trust, said there were a number of oversights in the plans.
He said most people in Gloucester would like to see the police station element of Shire Hall demolished rather than refurbished.
"I'm also mystified as to why the Blackfriars car park isn't in the plan as well. I think that's an essential part of the pedestrian route between the cathedral and the docks and I would like to see something there," Mr Worsnip said.
"As far as the prison's concerned... we want to see the walls kept, the original part of the prison kept, but there's much of it can be knocked down."
City council leader Paul James said: "These historic areas have significant importance to Gloucester, linking the well known local landmarks of the Docks, Cathedral and River Severn.
"The masterplan... is the starting point for determining how this area is transformed, but needs to be flexible enough to take account of market conditions and the views of our residents."