Call to tackle illegal taxis at Cheltenham Festival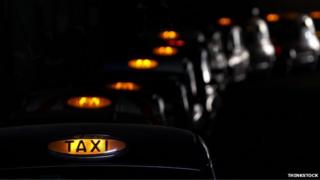 Hackney carriage drivers have called for a local authority to do more to stop unlicensed cabs operating during the Cheltenham Festival.
Cheltenham Hackney Carriage Drivers Association (CHCDA) said the cabs took business away from them and it was "down to the council" to take action.
Cheltenham Borough Council said licensing officers would be on patrol at the event to help with enforcement.
It also plans to equip taxi marshals with CCTV body cameras.
A spokesman said enforcement officers would be on patrol from Forest of Dean, Gloucester and Tewkesbury councils, to help identify unlicensed drivers from those areas but described the problem as "a complex issue" which was "not easily solved".
The CHCDA's Dave Halliday said it had always been an issue but it was up to the council to enforce the rules.
Cheltenham taxi driver, Wally Mockble, described the impact of unlicensed cab drivers on his business as "really, really bad".
An extra 50,000 people a day are expected in the town for the festival, which runs from Tuesday until Friday.