Dale Vince divorce ruling 'like cashing in old lottery ticket'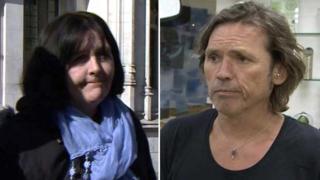 A woman seeking £1.9m more than 20 years after a divorce is being allowed to "cash in a very old lottery ticket", her millionaire ex-husband has said.
Dale Vince, from Gloucestershire, said fighting the decades-old divorce battle had already cost him over £500,000.
His ex-wife, Kathleen Wyatt, 55, won a landmark Supreme Court bid on Wednesday to claim cash from Mr Vince, 53.
The pair split in 1992 after 11 years of marriage and Mr Vince went on to launch green energy company Ecotricity.
'Very wrong'
"Our relationship ended 32 years ago which is an incredible passing of time," Mr Vince told BBC Radio 4's Today programme.
"We had a settlement 20 years ago but I cannot prove that because it was so long ago that not even the courts keep records.
"I think it is very wrong just to cash in what is in effect a very old lottery ticket on her part."
Ms Wyatt began legal action in 2011, seeking £1.9m from her ex-husband, with whom she had a son, Dane.
Mr Vince had appealed against it on the basis she had lodged the claim too late, but five Supreme Court justices unanimously ruled her case should go before the family court.
He set up his company in 1995 after the pair had split. He is now worth an estimated £107m and has been made an OBE.