Forest of Dean Wilderness Centre to reopen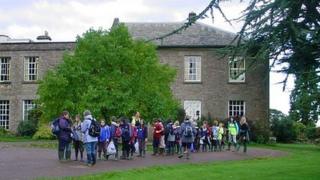 An environmental education centre site in the Forest of Dean, which was closed in 2011, is to reopen in the summer.
The Wilderness Centre, at Mitcheldean, was shut by Gloucestershire County Council because of budget cuts.
Cambridge-based Dr Daniel Sturdy, who bought the centre, said it would stay as an "outdoor education campus" with historic buildings preserved.
Work to restore and repair a Georgian mansion has already begun before the summer re-opening.
A Saxon-style farm building and a miniature chapel will also be restored along with a range of outbuildings.
A campaign group has been pushing for the past four years for the centre to open again.
In 2012, Protect the Wilderness occupied the site for almost four months in an effort to save it.