Gloucestershire soldier stories shared on bus posters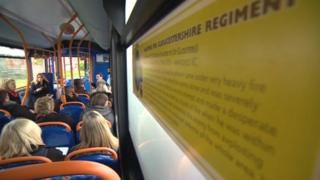 The stories of a number of soldiers from the Gloucestershire Regiment are being carried on local buses.
Eight of the soldiers were awarded the Victoria Cross, for "valour in the face of the enemy", and one the highest civil decoration, the George Cross.
Their pictures and stories are being highlighted on nine Stagecoach buses.
On Monday, the vehicles were parked outside Gloucester Cathedral for a remembrance event to celebrate 12 generations of military service.
Chris Chatterton, from the Soldiers of Gloucestershire Museum, said: "The nine men we are saluting are all incredible individuals, who performed extraordinary acts of valour and bravery in the most challenging of circumstances.
"These men are representative of the thousands of others who have worn the badge of the Glosters with pride, who have served our country with honour and who deserve to be remembered by us all."
Stagecoach said it was hoping to use the Centenary-dedicated buses to help school education "on the rich history of the servicemen".