Phone apps set to control Gloucestershire canal bridges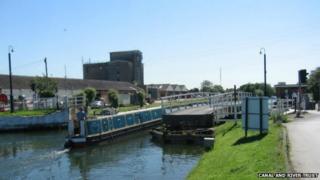 Technology allowing canal bridges in Gloucestershire to be opened via mobile phone apps is set to be introduced.
The Canal and River Trust has unveiled plans to convert 14 bridges on the Gloucester to Sharpness canal, currently operated by bridge keepers.
The first bridge will be converted later this year.
It is believed to be the first time a canal in the UK has used the technology, which is already used to control railway level crossings.
Boaters will be able to use a smart phone app, or contact a new control centre in Gloucester by telephone or VHF radio, to open the bridges and allow boats through.
The first fully remote-controlled bridge at Sandfield is due to begin operating in August or September, with the remaining bridges set to follow by the end of 2017.
Nick Worthington, from the Canal and River Trust said Network Rail already used the technology, which has been trialled at the trust's Sandfield bridge, at a number of road crossings.
The trust said it anticipated bridge keepers whose jobs would be lost would be redeployed within the organisation.