Fire damages Midwinter Transport yard at Newent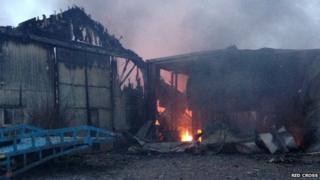 A warehouse, offices and a haulage depot in Gloucestershire have been badly damaged by fire.
The fire broke out at the Midwinter Transport depot, near Newent, just before 01:00 GMT.
A number of nearby homes were evacuated following fears of fuel tanks and gas bottles exploding.
Gloucestershire Fire and Rescue said that more than 50 firefighters from across the county had helped bring the blaze under control.
A number of commercial vehicles were destroyed but firefighters stopped the blaze reaching a nearby diesel tank containing some 150 gallons (700 litres) of fuel.
Fire service spokesman Simon Macmillan said the fire was "fairly severe" and crews were concerned by acetylene cylinders which had the potential to explode.
"It's important to put the fire out but it's also important that we protect all our firefighters and the public.
"The residents who live nearby had to leave their homes and we had the Red Cross helping them."
No one was hurt and the cause of the fire is unknown.
An investigation into the cause is under way.
Crews are expected to remain on site for most of Monday morning damping down.