Wild boar 'is shot with arrow' in Forest of Dean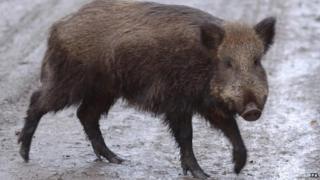 A wild boar has been spotted in the Forest of Dean with an arrow sticking out of one of its rear legs prompting a police appeal for information.
The animal, which police warned could be dangerous, was seen at about 09:00 BST in Edge End, Coleford.
The attack follows concerns by marksmen and hunt protesters over wild boar being culled illegally in the district.
Some boars are being shot with air rifles and others cut up in the woods with the desired parts taken away.
'Front legs'
Licensed marksman and parish councillor Felix Bihlmeier is employed by landowners to shoot wild boar.
He said: "The beast is killed both by destroying vital organs, but also the shock, and death is instant so it's very humane.
"Using an incorrect calibre of rifle is a firearm offence.
"We have on occasion dug out small .22 calibre bullets out of carcasses, even air gun pellets which is just ridiculous, it is totally unethical," added Mr Bihlmeier.
An anti-hunt campaigner has also seen wild boar with facial bullet wounds.
Drew Pratten from the West Gloucestershire Badger Group, added: "Last week I saw two front legs in the woods where they had cut them up - at least once a fortnight I see the boar parts."
He said that the issue had got worse in the past six months, believing the culprits were new to the area.
"We used to have local lads who knew if you walked 200 yards off track, you can't carry them back [as they are too heavy]."
A police spokesman said anyone caught using the incorrect calibre of rifle "would be committing a number of offences including causing unnecessary suffering to an animal, possible firearms offences and they would be in breach of the licence conditions".