Donations for mugged Cheltenham cancer victim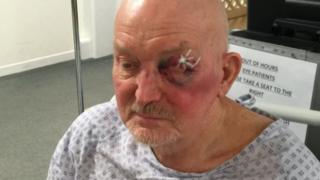 A fundraising campaign has been launched for a 70-year-old cancer sufferer who lost 3,000 euros (£2,190) of holiday cash in a violent mugging.
John Jukes from Cheltenham, who has leukaemia, was attacked after taking out the money for a trip to Greece.
Mr Jukes said: "It's very heartening that people can show this level of concern so I'm very thankful for them."
Police have released a CCTV image of the suspect in the mugging on 31 March near the Two Pigs pub in Cheltenham.
The appeal set up by the Gloucestershire Echo to replace the lost funds has so far raised £1,300.
'Bled internally'
The attacker had claimed a woman at the Post Office wanted to talk to Mr Jukes but when he approached the cashier she told him it was not her.
The mugger then offered to take Mr Jukes down the alleyway near the Two Pigs pub where he said the woman was waiting.
Realising it was a trick, the victim turned to walk away but was assaulted.
Mr Juke's injuries included six fractures to his eye socket, bruises and grazing.
He had recently spent five weeks in hospital for intensive chemotherapy.
Mr Jukes added: "With this condition you could easily get internal bleeding and if it had been a month earlier when my platelets were very low I would have bleed internally much more than I had done and it could have been potentially fatal."
Police have released a CCTV image of the man in a striped top they believe may be responsible for the attack.