Holiday euros raised for cancer patient John Jukes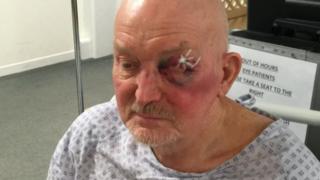 An appeal to raise money for a man with leukaemia who was mugged after withdrawing holiday cash has reached its target.
John Jukes, 70, from Cheltenham, suffered six fractures to his eye socket and lost 3,000 euros (£2,190) during the attack on 31 March.
A campaign to replace the stolen money, led by the Gloucestershire Echo, has now raised more than £2,500.
A 30-year-old man has been charged with grievous bodily harm and robbery.
He is due to appear at Gloucester Crown Court on 7 May.