Cheltenham Borough Council to leave Municipal Offices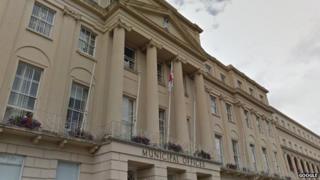 Council workers in Cheltenham are set to vacate the town's Municipal Offices after 100 years of government use.
The borough council has agreed a move to a new town centre building, which it says could save nearly £70,000 a year.
A mixed-use development is being considered for the old offices, such as a hotel, shops and leisure activities.
Council spokesman Mark Sheldon said it was a "significant decision which will have a major impact on the town's economy and regeneration".
The new site for the headquarters will be announced in the coming weeks after its purchase is complete, the council said.
It hopes to push forward the redevelopment of the Grade II-listed Municipal Offices "as soon as possible", and intends to offer it through a ground rent or performance share scheme rather than sell it for a one-off sum.