Singing Gloucestershire vicar to star at FA Cup final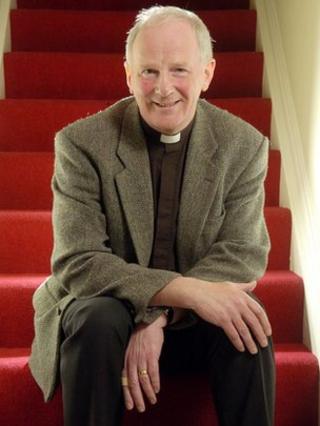 A vicar from Gloucestershire has been given a "once in a lifetime chance" to sing on the pitch at Wembley, ahead of this year's FA Cup Final.
The Reverend Peter Quinnell, 66, has been chosen to be part of the Songs of Praise FA Cup Fans Choir to sing Abide With Me before the match on 30 May.
He is one of 64 fans, each representing the teams who have made it to this year's third round of the competition.
Mr Quinnell has supported Southampton FC since he was a child.
"I heard [the competition] on BBC Radio 4 many weeks ago," he said.
"You had to write in to say why you should represent the club that you support.
"I moved to Southampton when I was a child, a babe in arms. It was my hometown and it's been my team ever since."
'Average voice'
BBC One's Songs Of Praise teamed up with BBC Sport to offer football fans the opportunity to be in the choir - more than 1,300 people applied.
Crowned regional winner, Mr Quinnell will sing Abide With Me, backed by the FA Cup Final military band, in front of 90,000 people.
The hymn was first sung at the FA Cup Final in 1927.
"I would say my voice is average," Mr Quinnell added.
"I'm a vicar and when I was in college, yes we all had to go through voice training.
"There have been those occasions, which I still look forward to, when I've been the cantor at choral Evensong."