Gloucester man jailed over hit-and-run cyclist death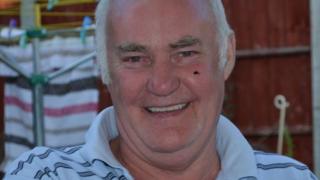 A driver who killed a cyclist on a paper round in a hit-and-run crash has been jailed for more than 10 years.
Alan Knight, 64, was killed on the Stroud Road in Gloucester last September.
Tykeran Hamilton, 24, had been due to face trial at Bristol Crown Court but admitted causing death by dangerous driving.
Bristol Crown Court heard Hamilton was driving an uninsured and unlicensed BMW at speeds of over 70mph.
He had also been drinking vodka and taking cocaine before the crash, the court heard.
Hamilton, of Lysons Avenue, went on the run for a month before his eventual arrest, although police recovered the car on the same day, the court was told.
Hamilton also admitted causing death while driving an uninsured vehicle and causing death while driving an unlicensed vehicle.
He will also serve a consecutive 12-month sentence for previous drugs offences and six months concurrent sentence for a previous offence of possessing a samurai sword in public.
Mr Knight was described by his family as a loving husband, father and grandfather who "relished" the volunteer paper round which had "kept him fit and active" for four years.