Giant's Chair in Forest of Dean to be burnt for charcoal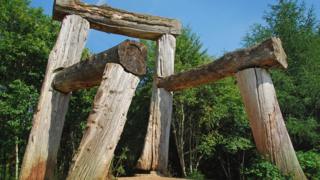 A giant wooden chair erected in the Forest of Dean almost 30 years ago is to be burnt for charcoal.
The 20ft (6m) tall Giant's Chair was crafted out of local oak by Czech artist Magdalena Jetelova in 1986.
Despite being strengthened in the past, the trust which manages the trail in Gloucestershire said the wooden structure was now "falling down".
Henry Castle, a former University of Gloucestershire graduate, has been commissioned to create a replacement.
The chair is one of 16 installations dotted along a 4.5 mile (8km) forest trail near Coleford.
Originally intended by the artist to be in place for just a year, the huge wooden throne has been perched on the edge of a cliff overlooking the valley for 29 years.
"When it went up, the artist said it should be burnt for charcoal after a year," said Andrew Stonyer from the Forest of Dean Sculpture Trust.
"But it became such an icon and the public thought it was such a spectacle - it stayed."
Now, according to the trust, the tilting giant is "no longer stable" and once the bats - roosting in the sculpture's legs - are re-homed, it will be taken down.
To honour the artist's original wish and "create a permanent legacy for the sculpture", the trust intends to recycle the remains into new artworks.
Its replacement is due to be completed in early summer 2016.