Adventurer Sean Conway completes 'ultimate triathlon'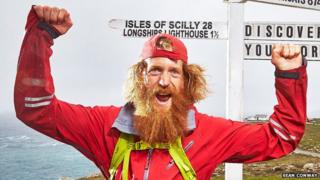 Bearded endurance adventurer Sean Conway has become the first person to complete an "ultimate triathlon" over three lengths of Britain.
The 34-year-old jogged into Land's End on Sunday to complete the 1,000-mile (1,610km) run from John O'Groats.
Mr Conway, from Cheltenham, hit the headlines in 2013 after spending months swimming between the two points, having already cycled the distance.
He said the run was "incredibly tough" but he was relieved to have finished.
An attempt to complete the challenge had to be abandoned last summer when he suffered a twisted ankle while filming a video "selfie".
But he is celebrating now after successfully finishing the six-week run, during which he was totally unsupported and carried his own kit, including a tent to sleep in.
"It all began because I realised I had a need to push myself physically and mentally to live my life to the full," he said.
"The run was incredibly tough, tougher than I expected, but the passion and support of the British public throughout my journey was tremendous and without them I do not think I would have accomplished this historic feat.
"I really needed to make this run happen because failing it a second time round was not an option for me.
"I'm relieved to have finished now and look forward to challenging myself and my aching limbs to something else in the not too distant future."
Over the course of the journey, Mr Conway took more than 1.5 million steps, averaging more than 25 miles a day but sometimes achieving distances of roughly 40 miles.