Petition to keep child grave ornaments gets 1,100 names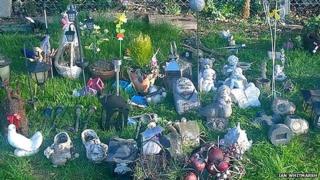 A petition to stop the removal of toys and ornaments from children's graves at a Gloucestershire cemetery has been signed by over 1,100 people in a week.
Donna Cullinane set up the petition after decorations were removed from her son Shay's grave in Lydney.
The town council said it was its "legal duty" to maintain the area and people had been given four-months notice of the action.
It said it had a "long standing" policy that certain items were not permitted.
Paul Hudson said his daughter had been left "devastated" when she discovered the items had been moved from Shay's grave.
"We had possessions placed on to the grave that were actually presents from his brother and sister - so when they came to visit him, every week, they could actually play with their brother," he said.
"Now all he's got is a teddy bear, some stones with some personal messages on, a train and a tiger - everything else has been removed.
"It was the way it was done, everything removed and just put into a big pile next to the shed and all for the sake of cutting the grass."
A spokesman for the town council said relatives had been given four-months notice to remove or re-site any "personal adornments" from the graves.
"When the grace period expired, council staff repositioned the adornments to the headstone plinth," he said.
"If there were too many adornments, they have been kept in safe keeping for collection by relatives. Nothing has been destroyed.
"The council has a legal duty to maintain the cemetery. It also has a moral duty to provide a place of respect."