Former jet factory workers reunite in Gloucester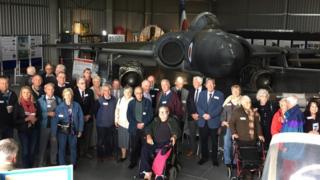 More than 100 former workers at the Gloster Aircraft Company (GAC), where Britain's first jet aeroplane was developed, have gathered for a reunion.
At the height of World War Two, 10,000 workers were employed at the factory in Brockworth. It closed in 1963.
The reunion was held at the Jet Age Museum at Gloucestershire Airport, which houses aircraft built at GAC.
Memories and recollections of the workforce were recorded and preserved for future generations.
The museum's chairman, Darren Lewington, said: "There are so many local families who have a connection to GAC.
"We frequently hear of parents and grandparents who 'worked at GAC'.
"Our museum's ethos is very much to preserve the past and inspire the future."
Britain's first jet aeroplane, the Gloster E28/39, which was designed by engineer Sir Frank Whittle, was developed at the factory and had its first official flight in 1941.