Dowager's housekeeper jailed for three years for theft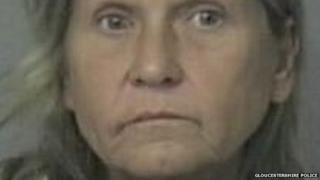 A "greedy and calculating" ex-housekeeper of the Dowager Countess Bathurst has been jailed for three years for stealing antiques.
Kim Roberts, 59, from Devon, appeared at Gloucester Crown Court for sentencing having pleaded guilty to four counts at an earlier hearing.
Judge William Hart said she had betrayed the trust of her employers through "avarice and dishonesty".
A second employer, an interior designer from Wiltshire, was also a victim.
The thefts took place between April and August 2013.
'Date of birth altered'
Roberts, a former show jumper from Coliton, was also sentenced for breaking into and stealing antique vases from Lady Bathurst's London home using stolen keys.
She also stole a Volvo XC90 car owned by interior designer, Emily Olympitis, when she worked as her PA at her home in Wiltshire, prior to her employment with the countess.
The fourth count related to Roberts altering her date of birth on her driving licence to avoid previous convictions showing up when she applied for work with an employment agency in London.
She approached antique experts to try to sell a Picasso sketch owned by the countess and other items but suspicions were raised and police were informed.
About 50 other items including silver clothes brushes and antique vases were uncovered after a search of her home in Devon.
All the stolen goods had a total value of about £500,000.
Some of those items were also taken from the countess's home in Cirencester.
During sentencing, her defence described Roberts' life as "disastrous", explaining that she had fallen on hard times.