'Lost' Herbert Sumsion violin sonata rediscovered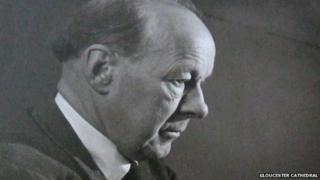 A "lost" violin sonata composed by a former organist at Gloucester Cathedral has been rediscovered.
Herbert Sumsion composed the sonata for violin and piano in 1920, but it was presumed lost.
It was rediscovered among an archive of documents owned by his grandson, after an enthusiast alerted him to its possible existence.
The piece will have its first public performance at the cathedral later this month.
Violinist Rupert Marshall-Luck, who specialises in recording and performing works of early 20th Century British composers, tracked down the manuscript after he became "intrigued by a passing mention" of it in an article in the Elgar Society journal.
'Completely forgotten'
"[Its author] Dr Donald Hunt knew Sumsion and was a student of his in the late 1970s and early 1980s.
"I wrote to him asking about the sonata... and he suggested I contact Sumsion's grandson, Paul Sumsion, who looks after the archive in Manchester."
The manuscript, which was never published and had thought to have been destroyed, was then located among the documents.
"It had been completely forgotten about and nobody has ever performed it publically, as far as we know," added Mr Marshall-Luck.
Herbert Sumsion was one of Gloucester Cathedral's longest serving organists, holding the role from 1928 until he retired in 1967. He died in 1995.
The sonata was written in Gloucester in 1920 when Sumsion was 21.
Mr Marshall-Luck described the music as having "a fresh, youthful exuberance" about it.
"It's not a very long work. It's in three movements.
"The first movement is very energetic and driving, it has a gentle and jaunty last movement and a very intense second movement."
The sonata has been recorded for a CD and its first public performance will take place at the cathedral on 16 May.