Water could flow under 'saved' Stonehouse bridge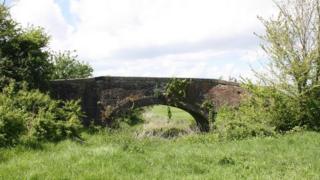 A bridge, which was saved from demolition as part of a campaign when the M5 motorway was built, could soon have water flowing underneath it again.
Westfield canal bridge near Stonehouse, Gloucestershire, was saved in 1969 by a woman who stood on it for a day to prevent workmen from blowing it up.
A scheme to restore the Stroudwater Canal includes plans to reinstate the waterway beneath it.
A £15m bid for Heritage Lottery cash for the project has begun.
The Cotswold Canals Partnership is behind the bid, which would allow a section of the canal to be restored through to Saul Junction by 2020, at a total cost of £20m.
Work will include burrowing beneath the Bristol to Birmingham railway line and ducking below the M5 with a new cutting being created alongside the River Frome.
Westfield canal bridge still exists but now stands alone in the middle of a field.
It was saved from demolition by local woman Christine Hearsey, who made local history by defying contractors who had been ordered to blow it up it to make way for a link road to the new motorway.
As a result of her actions the road was built nearby instead.
A six-week public consultation has begun and the final application for funding will be submitted in November.
The scheme is part of the ongoing project to restore the seven mile-long (12 km) Stroudwater Navigation and the 29 mile-long (46km) Thames and Severn Canal.
When completed, it will see the connection of the River Thames and the River Severn for the first time in more than 70 years.