Cheltenham mugger Jessie Evans swears at judge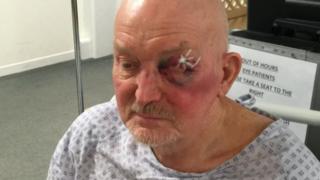 A mugger who took thousands of pounds of holiday cash from a cancer sufferer was removed from court after hurling expletives at the judge.
Jessie Evans, 30, said the Gloucester Crown Court judge was a "prat" and said he could do what he wanted with him.
Evans, of no fixed address, was due to be sentenced for attacking Cheltenham pensioner John Jukes, breaking his eye socket and taking 3,000 euros (£2,190).
Judge William Hart warned Evans he would consider an extended prison term.
'I'm sorry'
Leukaemia patient Mr Jukes had just left the post office with his holiday money when he was punched to the ground by Evans who then stole the money, on 31 March.
Before the outburst in court, Evans had apologised to Mr Jukes.
"I'm sorry from the bottom of my heart, John. I wasn't in the right frame of mind, I'm sorry Mr Jukes," he said.
But when Judge Hart asked for a psychiatric report and warned Evans he was considering an extended sentence, the mugger started swearing at the judge and had to be taken back to the cells.
Judge Hart told his defence team he would be sentenced once the reports had been received.