One-fish rule 'threatens' River Severn tradition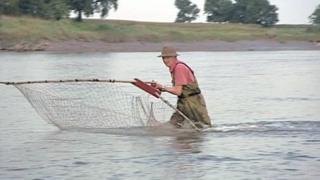 A traditional method of salmon fishing could die out after fishermen were granted a licence to catch only one fish each, it has been claimed.
The Environment Agency has introduced a limit this season for each lave net fisherman in the Severn Estuary.
The historic technique, in which fishermen use a Y-shaped net, has been practised for generations in Gloucestershire.
The agency said the restriction was in order to protect fish stocks.
Fisherman Jock Reeks, from Lydney, said: "They're virtually closing us down because who's going to go in for one fish? [The tradition] is not going to go on.
"They're been trying to shut us down for years, one way or another. About five or six years ago they cut back the season from six months to three months."
'Huge tradition'
Mr Reeks said a "minimal" amount of fish were caught using the technique and stocks had "not deteriorated much" in the last few years.
Another fisherman, Malcolm Cameron, said: "It's a huge tradition that's been going on for hundreds of years for generations.
"Whole families have followed one another into the river using this very old tradition."
There are currently 27 licence-holders. Last year each was allowed to catch five salmon, but this year the number has been reduced to one.
An Environment Agency spokesman said: "Catch limits have been allocated proportionally depending on the type of net used and their historic contribution to total estuary catch.
"Lave nets are permitted to remove one fish in the season. The reduction in numbers is because we have reviewed how we calculate the available catch limits for the 2015 season.
"We have been directed to take a precautionary approach to deciding catch limits to protect the special areas of conservation designated under the Habitats Directive."