Sir Hubert Parry auction: Lots of early works fail to sell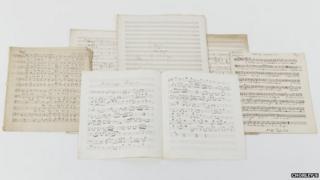 A collection of unpublished works by composer Sir Hubert Parry have failed to sell at auction.
Some 70 manuscripts were expected to fetch £30,000-£50,000 at Chorley's in Gloucestershire but the highest bid of £23,000 failed to meet the reserve.
Parry wrote some of the most famous choral music, including the hymn Jerusalem and the Coronation anthem I Was Glad.
For decades the work has been hidden away in a family archive.
Two of them were given world premieres at Gloucester Cathedral recently, but it is thought most of them have never been performed in public before.