Lydney railway station expansion plan is 'vital'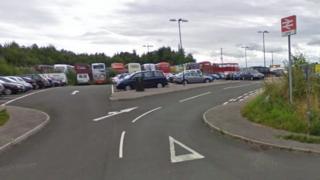 The expansion of an "over-subscribed" railway station car park in Gloucestershire is "vital", a councillor has said.
Network Rail said it is considering a number of options to reduce pressure on the 85-space car park at Lydney.
Councillor Will Windsor-Clive said extra room was needed to stop cars "blocking up" nearby roads at busy times.
But the firm said the issue was "complicated" to resolve.
Mr Windsor-Clive said Lydney is the only station in the Forest of Dean and people need the train as it "relieves the A40 and access to Gloucester".
"At the moment they are blocking up the roads around the station when the car park is full."
In a letter to Mr Windsor-Clive, Network Rail said existing land at the station which could be used to expand the car park is protected by rail freight regulations.
The operator said it could look into options to apply for consent to convert it.
Alternatively, it said it could investigate termination of the tenancy on a plot of neighbouring land it owns and put forward a proposal for parking.
This could potentially increase the number of spaces at the station to 155, but the firm warned the process would not happen quickly.