Gloucestershire politicians consider elected mayor again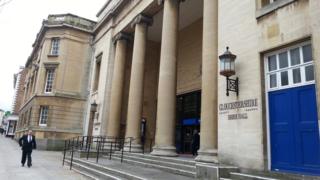 An elected mayor is again being considered to lead Gloucestershire's politicians, the BBC has learned.
The idea was rejected last year but is being re-examined amid fears the county's devolution bid could fail without one.
Leadership Gloucestershire, which consists of council, health, police and business leaders, met to discuss its devolution options on Thursday.
It has been suggested a mayor would boost chances of an early deal.
Martin Surl, the county's Police and Crime Commissioner, said: "It wasn't hard to read the writing on the wall from government that all the big money deals would have to come with an elected mayor.
"I said last September that we should at least consider it.
"The new writing on the wall is also clear - make your mind up because when the money's gone, it's gone."
It is understood that the longer it takes for any deal to be done, less money is available due to other successful bids getting in first.
---
Analysis: Chris Brierley, political reporter, BBC Radio Gloucestershire
Gloucestershire's bid has really hit the buffers. It was submitted to central government last September but there is still no news.
Other areas have been given cash and deals and I don't think our deal was helped with the Cotswolds throwing a spanner in the works with their talk of "coxiting".
It's early days to consider how a mayor could work. Whether its a directly elected mayor like in Bristol and London, or more of a chairperson picked by council leaders to oversee key meetings, that level of detail is what I understand is now being investigated.
---