Stone laid for Gloucestershire WW1 Victoria Cross hero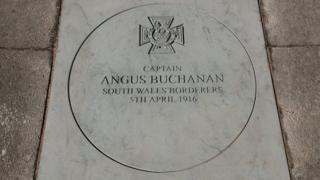 A soldier whose bravery on a World War One battlefield saw him awarded a Victoria Cross has been honoured with a commemorative paving stone.
The memorial to Captain Angus Buchanan was unveiled at 11:00 BST in a ceremony in the 21-year-old's hometown of Coleford in Gloucestershire.
It was attended by members of the soldier's Royal Welsh regiment.
The ceremony was described as "a short but poignant service to Coleford's bravest hero".
Sgt Robert Ayres, from the regimental band of the Royal Welsh, sounded the Last Post on his bugle.
Deputy mayor of Coleford, Nick Penny, said the town council is "honoured and delighted" to be able to lay the commemorative stone in recognition of Angus Buchanan's "outstanding bravery".
Capt Buchanan was awarded the Victoria Cross after saving a wounded officer's life on the battlefield under heavy fire.
He was shot in the head by a sniper and blinded.
Capt Buchanan died in 1944 and is buried in Coleford Cemetery, next to the recreation field named in his honour.