Safety call after elderly A46 crash couple trapped in car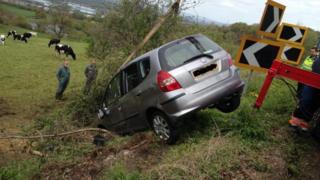 A call has been made for a safety barrier to be installed at the site of a crash which left an elderly couple trapped in a car overnight.
The couple, aged 87 and 78, were found on Sunday morning after a crash on the A46 close to Prinknash Abbey, near Cheltenham, at 20:00 BST on Saturday.
David Turner, who lives nearby, said "someone's going to get killed" unless a barrier is installed at a bend.
The county council said it is waiting for the findings of a police inquiry.
The man and woman, from Churchdown, were trapped in their overturned car for 14 hours after it fell 20ft (6m) down an embankment.
The 78-year-old female victim is in hospital in a serious but stable condition. The 87-year-old male has been discharged.
Mr Turner, who has lived on the stretch of the A46 for decades, said he had been campaigning for years for safety to be improved.
"I would say there's probably four of five accidents a year on that corner, either vehicles coming into the field or hitting the trees or spinning around," he said.
"I think [crash barriers] would stop vehicles being thrown up into the air and then landing in the field."
A Gloucestershire County Council spokesperson, said: "We are aware the police are currently carrying out an investigation into this incident, and we await to hear the findings of this instance."