Bald eagle returns after 'traumatic' disappearance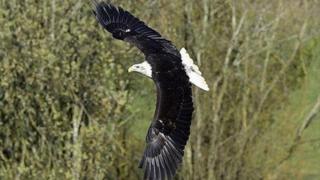 A bald eagle, which went missing from a Gloucestershire bird-of-prey centre, has returned after a "traumatic" disappearance.
Cremorne, who is three times the size of a buzzard, flew off on Monday and her radio tracker then failed.
Jemima Parry-Jones, founder of the International Centre for Birds of Prey (ICBP), said she was spotted by a member of the public in a quarry.
"Staff crept up close to her and tempted her with a big rat," she said.
The eagle, which has a seven-foot (2.1m) wingspan, had been spotted several times in trees close to the centre in Newent, but staff had been unable to capture her.
"They don't normally go a long way but we were very worried especially as the radio transmitter had stopped working and we couldn't keep track of her," said Ms Parry-Jones.
"We were extremely concerned as she has never hunted...It's been very traumatic for her.
"She will be rested now and kept in her aviary until she regains some weight."