Judge slams officer over Royal Agricultural University gang rape case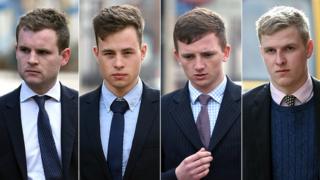 A judge has chastised a detective and the Crown Prosecution Service (CPS) after a rape trail involving four men collapsed.
The men had been accused of the gang rape of a woman, 20, after an end of term party at the Royal Agricultural University in Gloucestershire, in 2014.
At Gloucester Crown Court, Judge Jamie Tabor QC said Det Con Ben Lewis failed to disclose "game changing" evidence.
He now faces an inquiry by the police's professional standards department.
The woman alleged she had been raped and subjected to violence, including strangulation, and some of it had been filmed and shared for others to watch.
The trial was due to begin in March but, following a review of the case, the prosecution offered no evidence and the four defendants - Thady Duff, Leo Mahon and Patrick Foster, all 22, and James Martin, 20- were cleared.
Last month, three of the defendants returned to court to apply for a proportion of their legal costs to be paid by the prosecution - which was granted.
'Cherry picking' evidence
At the hearing, Det Con Lewis was accused of "cherry picking" supportive evidence and "airbrushing out of the picture" anything that could have helped the men.
This included conversations and text messages sent by the woman, which were only recovered when experts for the defence carried out a full examination of her mobile phone.
It also emerged as the trial was due to begin that police had failed to disclose she had been a witness to an alleged rape on an Army base in October 2014 and that there were inconsistencies in her evidence.
The judge also criticised the CPS for failing to obtain files from the Royal Military Police about the case in which the complainant was a witness.
Judge Tabor said had the men been found guilty, and this evidence later emerged, he was certain the Court of Appeal would have found the convictions unsafe.
He said: "Aware as he was, not only of his duties, but the character of the complainant, Det Con Lewis should have investigated the download from the telephone in far greater detail than he did.
"His omissions in relation to the disclosure of the telephone evidence were stark and very serious.
"The Crown Prosecution Service and Det Con Lewis must bear joint responsibility for the failure to properly disclose this game changing material."
Mr Duff, of Blunsdon, Swindon; Mr Foster, of Colchester, Essex and Mr Mahon, of Cirencester, Gloucestershire were not present in court.
A spokesman for Gloucestershire Police said the force took the judge's findings "very seriously".
"It is right to note that Det Con Lewis has not been found to have acted in bad faith in any way," he said.
"The force shall refer the judge's findings to its professional standards department who shall consider whether or not any conduct issues have been identified in relation to any officers."