Dolton Powell murder trial: Seven men cleared and one found guilty of murder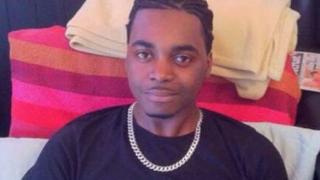 Seven people have been cleared and one man has been found guilty of murdering a man after a party in Gloucester.
Jordan Barclay, 18, was found guilty of stabbing Dolton Powell, 21, outside All Nations Community Centre on 23 August 2015.
Seven other men from Bristol were charged with Mr Powell's murder under the joint enterprise law but were cleared at Bristol Crown Court.
Barclay is due to be sentenced on 6 July.
The court heard that Mr Powell's friend, Elijah Sutherland, got into an argument with one member of the group in the centre's car park.
This prompted the men to go back to a car and arm themselves with weapons kept in the boot, including knives.
'Stabbed in neck'
One of the group then stabbed Mr Sutherland in the arm, leg, back and hand.
The court heard Mr Powell remonstrated with the group and smashed the passenger window of their car before he was stabbed in the neck.
He staggered across the car park before collapsing and died "within a minute", prosecutors said.
After deliberating for two days, the jury at Bristol Crown Court found Barclay guilty of murdering Mr Powell and wounding Mr Sutherland with intent.
Nico Daley, 18, was also found guilty of wounding Mr Sutherland with intent.
Marzel Bolton, 20, Tyler Finch-Vassel, 19, Martell Hartford, 18, Josphat Mbuga, 19, Everton Spence, 19, and Cartel Williams, 19, were all cleared of murder and wounding with intent.
Mr Powell's mother Angela Nugent said her son was "my heart and my soul and my angel" and he "was loved by everyone".
She added: "I want him back. I want him here with me, not to keep going to his grave."