Fairford Coln House School closed over 'safety concerns'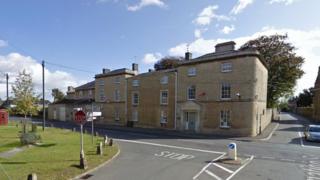 A school in Gloucestershire, which was criticised by Ofsted inspectors, has been closed over "safety concerns".
Coln House Residential Special School in Fairford caters for about 35 pupils, aged nine to 16, all with complex learning difficulties.
Gloucestershire County Council said pupils were removed from the school on Friday for their "safety and well-being" but would not elaborate further.
The authority said it was working to find alternative places for them.
'Required improvement'
As yet, the nature of the current safety concerns have not been divulged but further information about the situation is expected to be released.
A previous Ofsted report said the school "required improvement" in all areas following an inspection in January.
In particular it noted the internal condition of the building was unsatisfactory and the care and support provided to pupils was inadequate.
It said the school "does not meet the national minimum standards for residential special schools".
The BBC has contacted the school for a comment but it is yet to respond.