The Venerable Robert Springett is new Bishop of Tewkesbury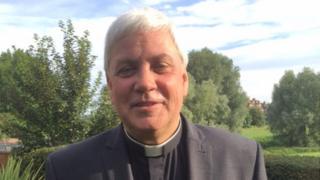 The identity of the new Bishop of Tewkesbury has been revealed.
The Venerable Robert Springett, the current Archdeacon of Cheltenham, will take over from Martyn Snow, who left to become the Bishop of Leicester.
He said he was "deeply honoured" and will be ordained and consecrated as a bishop by the Archbishop of Canterbury on 30 November.
A service of welcome to the diocese will take place at Gloucester Cathedral on 11 December.
Mr Springett, who is married and has two daughters, was previously the Rector of Wanstead in east London, Area Dean of the London Borough of Redbridge and a honorary canon of Chelmsford Cathedral.
He was ordained a priest in 1990 and studied business before training at Lincoln Theological College and Nottingham University. He was awarded a Master's degree in Theology by London University in 1992.
He said: "I'm looking forward enormously to working with Bishop Rachel and with colleagues old and new in this new role and discovering more of this wonderful diocese, of which it is a privilege to be a part."