River Leadon ammonia leak kills 'thousands of fish'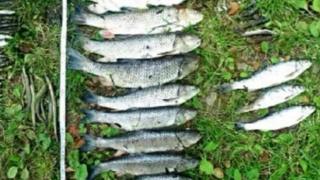 Several thousand fish have died after ammonia leaked into a river, the Environment Agency has confirmed.
Reports of dead fish in the River Leadon, in Gloucestershire, were first made on Friday, before tests revealed high levels of the gas, earlier.
Sarah Dennis, from the agency, said: "The total quantity is unknown at the moment but we believe it could be several thousand."
The cause of the leak has not yet been confirmed by the authorities.
Ms Dennis added: "I can't confirm where this has come from - this will be an ongoing legal investigation."
She said the agency was removing fish from the river where possible, but added that if any dead fish were seen in the river people should call the agency in to remove them.