All Fairford Coln House school governors resign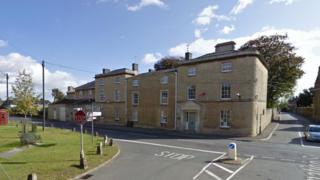 All the governors at a school which had its pupils removed and was placed in special measures have resigned.
Coln House Residential Special School in Fairford, Gloucestershire, caters for 35 pupils, aged nine to 16, all with complex learning difficulties.
Ofsted rated the school as inadequate after concerns were raised about pupil safety in school and on trips.
The governors said they had no "meaningful role to perform" after the pupils were removed.
The county council removed pupils from the school earlier this month after the Ofsted inspection, which was carried out in May, rated the school as inadequate
The council said all pupils had now been found alternative school placements.
'Children's welfare'
Chair of the board of governors Elizabeth Knox said collectively resigning was "the only action they could take".
She said they remained "very concerned for the welfare of the children" and "acknowledged the concerns" which were raised in the recent Ofsted report which resulted in the school going into special measures.
Councillor Paul McLain, from Gloucestershire County Council, thanked the governors for supporting the school.
He said: "When a school is placed into special measures by Ofsted, as Coln House was earlier this month, the normal process is to replace existing governors with an interim executive board.
"I welcome the pragmatic decision of the governors to expedite this process by resigning."