Swan motorway rescue sparks Hot Fuzz comparisons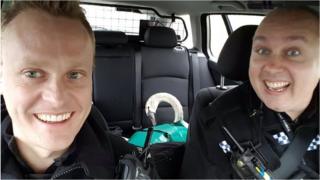 The rescue of a swan from a motorway by two police officers has been likened to something out of spoof film Hot Fuzz.
A photo of the stricken bird, wrapped up safely, was posted on social media by police after the rescue from the M5 near Stroud, Gloucestershire.
The "swan selfie" sparked a pun-filled response on Twitter with many comparing the incident to the Simon Pegg and Nick Frost comedy film.
Another said the pair were involved in a game of "cobs and robbers".
The swan was driven away from the scene unharmed.
Hot Fuzz was released in 2007 and followed two hapless police officers investigating deaths in the fictional town of Sandford.
But much of the film was shot in the city of Wells in Somerset.