National Trust's Newark Park damaged by burst pipes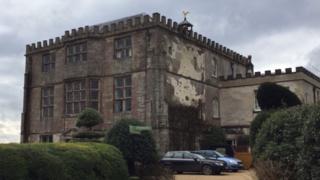 A National Trust property dating back to the Tudor period will be closed for several weeks after it was badly damaged by burst water pipes.
Staff at Newark Park near Wotton-under-Edge, Gloucestershire, are being praised for acting quickly to shut off the water supply and move items.
Floorboards have had to be removed and dehumidifiers are being used to help dry out floors and ceilings.
Other damaged artefacts are being dried inside heated enclosures.
Trust conservator Anna Barnes said it was believed three pipes burst in the roof space, leading to "a lot of water ingress" affecting rooms on the east of the house, which is more than 400 years old.
"There was a lot of water and it travels across floor voids; it's quite serious, and it's going to take a lot of time to correct things.
"We've probably got half a dozen rooms or more affected by floodwater that's come down from the attic level."
The National Trust said it hoped to reopen the gardens, grounds and tea pavilion this weekend.