Ah'Kiell Walker trial: Mother says baby was 'happy and healthy'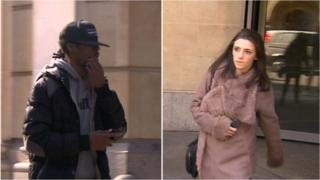 The mother of a baby who died after allegedly being shaken and immersed in water by his parents told police he was a healthy, happy baby, a court heard.
Hannah Henry said three-month old Ah'Kiell Walker had no health problems, apart from some constipation, prior to him being rushed to hospital.
Ms Henry, 22, is on trial at Bristol Crown Court alongside the baby's father Alistair Walker, 27.
The pair deny manslaughter and causing or allowing the death of a child.
Ms Henry said the last time she had seen a health professional was when Ah'Kiell was six weeks old and the health visitor had checked on him.
Other than that his health was good and there had been no need to take him to the doctors, she told the jury.
'Stopped breathing'
Ms Henry said Ah'Kiell was generally well but had been suffering from constipation the week prior to his admission to Bristol Royal Hospital for Children.
She said on 30 July 2016, Ah'Kiell woke up at around 05:30 BST and Mr Walker gave him a bottle of formula, and later a bottle of sugar water.
Not long afterwards Ah'Kiell was alone with Mr Walker when he started coughing up bloody mucus and then stopped breathing, she added.
She said Mr Walker was walking around with Ah'Kiell against his chest and she splashed him with water in the bathroom, hoping it might help to revive him.
Ms Henry told how paramedics arrived quickly at their home in Archdeacon Street, Gloucester, and added Ah'Kiell had been fine prior to the coughing incident.
Ms Henry and Mr Walker also deny cruelty to a person aged under 16.
The trial continues.