Ah'Kiell Walker trial: Father blames paramedics over son's death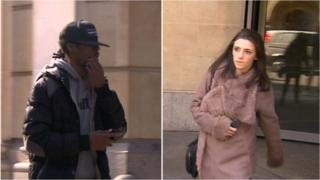 The father of a baby who died after allegedly being shaken and immersed in water by his parents said paramedics made the child's condition worse.
Alistair Walker told Bristol Crown Court he did not know how three-month-old Ah'Kiell Walker's lungs became filled with water.
In police interviews, the 27-year-old said a paramedic "allowed my son to die in front of me".
Mr Walker and Ah'Kiell's mother Hannah Henry, 22, both deny manslaughter.
The court heard that Walker told police he realised something was wrong with Ah'Kiell on the morning of 30 July 2016 because he looked "pale".
"I have picked him up to see if he was OK. He was just limp," he said.
Mr Walker said he started panicking when "frothy blood" came out of Ah'Kiell's nose and he told Ms Henry to call an ambulance.
He added he tried to suck the blood from Ah'Kiell's airways and scooped water on to his face in a bid to revive him.
The court has heard Ah'Kiell was discovered "freezing cold" and soaking wet by paramedics at the family home in Archdeacon Street, Gloucester.
In a police interview the day after Ah'Kiell died at Bristol Royal Hospital for Children, Mr Walker objected to a number of questions, saying: "Ask me a relevant question" and: "Get to the point."
He added: "You are trying to make it sound as if we have murdered our son or something. The paramedic made it worse 100%, the paramedic allowed my son to die in front of me."
Asked how Ah'Kiell's lungs became full of water, Mr Walker said: "That's what I need to know as well, he drinks water, I don't know what it is doing in his lungs."
He also accused a second paramedic of "not looking like she knew what she was doing either".
He added of his son: "He was dead at the house, I was watching. They did that to him, they made it worse."
Mr Walker and Ms Henry also causing or allowing the death of a child and cruelty to a person aged under 16.
The trial continues.