Southampton Titanic Engineers Memorial is restored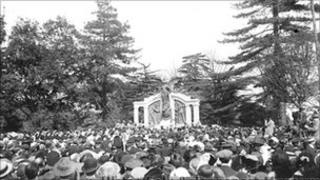 A newly-restored memorial marking the bravery of the engineers who died when the ill-fated RMS Titanic sank 98 years ago will be unveiled in Southampton.
Thousands of people attended the Titanic Engineer's Memorial in Andrews Park when it was unveiled in 1914.
Work on the bronze monument began at the beginning of August.
The ship set sail on 10 April 1912 en route to New York but 1,523 people died after it hit an iceberg. The ceremony will be held at 1400 BST on Sunday.
The original monument was funded with worldwide donations.
The restoration project is a joint initiative between the city council and independent company Twenty Twenty Television.