Passengers flee double-decker bus fire near Andover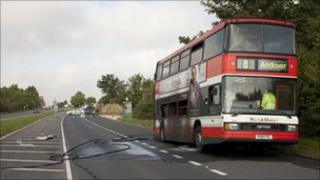 Passengers had to run from a double-decker bus when it burst into flames on a main road in Hampshire.
Firefighters were called to the A342 at Penton near Andover when the Wilts and Dorset bus caught fire.
It took 16 firefighters more than an hour to bring the flames on board under control.
Hampshire Fire and Rescue Service said about five litres of diesel spilled into nearby drains. An Environment Agency team was also sent to the scene.