Banknote printing firm staff 'falsified' documents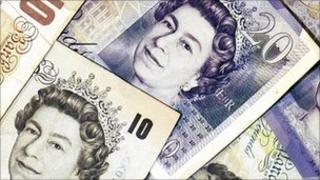 The world's biggest bank note printer has warned of a heavy profits blow after internal investigations found some staff had falsified documents.
Production at the De La Rue paper factory in Overton, Hampshire, where the company also has its UK headquarters, was suspended on 21 July.
The firm said some employees had falsified paper specification test certificates for some customers.
De La Rue has passed its findings on to the Serious Fraud Office.
Standards not met
The findings came to light after the firm launched an internal inquiry into production failures, after quality standards were not met.
It suspended production at the factory, but said the problems related to the testing of paper quality and did not involve any issue with either the physical security of the facility, or the security of the paper produced.
It said it was taking disciplinary action against those involved, with a new managing director brought in for the currency division.
Chairman Nicholas Brookes said: "The behaviour of some of our employees in this matter was totally unacceptable and contravened De La Rue's rigorous standards.
"We do not tolerate such behaviour and appropriate disciplinary action is being taken.
"The board has put an immediate end to the irregularities that have been identified."
Profits slumped
The firm warned that the production problems would cost it at least £35m in lost profits for the half year to the end of September as sales volumes had been affected.
Production had now been brought up to scratch, and the firm was ready to resume supply of fully compliant paper, it said.
But shares slumped another 4% after the profits warning.
Last month, the firm's chief executive James Hussey resigned after the firm said sales would be affected by quality problems, sending its shares down 10%.
De La Rue prints notes for the Bank of England and for banks in 150 other countries.