Southampton wall owner to restore Banksy mural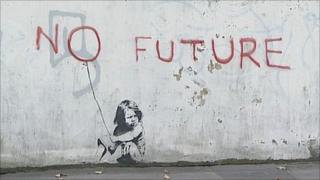 The owner of a Banksy mural in Southampton, which was painted over a week ago, is promising to restore it.
The image, believed to have been created by the controversial street artist, was painted over only weeks after it appeared.
Some believe the mural could have been worth tens of thousands of pounds.
Joe Sidhu, who owns the wall in the Bevois Valley area of the city, says he'll remove the paint which was daubed over it as quickly as possible.
The image was of a child sitting on the pavement holding a red balloon, which formed part of the phrase "no future".
It was sprayed on to a white wall and a photo of it appeared on the artist's website, indicating it was genuine.
But the image was daubed with white paint. It is not yet known who is responsible.
A word "styles" was also added to the end of the phrase, "no future".
Fans of the artist had been visiting the site to take photos of the mural, after the image appeared in the media.
It is believed the painting, which was drawn on a private wall, may have been worth £35,000, according to Keith Sekree, owner of the TAOI Gallery in Shamrock Quay, which sells Banksy works.
He said the owner of the wall had contacted him with a view to selling it, but added the image was now "worthless".
Bristol-based Banksy, who has never revealed his identity, is known for painting political and satirical graffiti on walls during the night, apparently unnoticed.