Hampshire woman aged 84 hits burglar with stick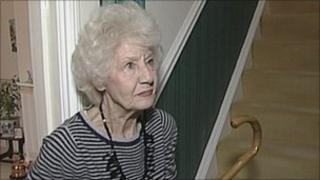 An 84-year-old Hampshire woman has been talking about the moment she repeatedly hit a burglar with a walking stick.
Doris Thiele and her daughter, Helen, 59, found the intruder in an upstairs bedroom of their home in New Milton one night in October 2010.
They struggled with the man, who eventually escaped by headbutting a glass door. He was later jailed for burglary.
Both women have now received police commendations for their courage.
Mrs Thiele said: "I gave him a crushing blow on the head two or three times. He said 'let me go, let me go'.
'Not proud'
Leon Ingram, 32, was jailed for three years at Southampton Crown Court on 14 January after admitting burglary.
"I stood my ground. I wasn't frightened. My daughter wasn't either.
"On my scream she jumped out of bed, rushed out of the bedroom and immediately fell on him until their eyes were close.
"I laugh about it but I'm not proud, but if it happened again, I would do it again."
Det Insp Paul Gelman of Hampshire Constabulary said: "You are entitled to protect yourself, you're entitled to protect others, to protect your home and to conduct a citizen's arrest.
"What you must bear in mind is that only ever, ever use reasonable force."