Southampton 112mph speeding biker caught by helmet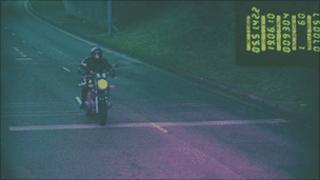 A biker who clocked up 112mph in a 50mph zone travelling to work has been banned from the roads after being caught by the design of his helmet.
Roger Tobola, 51, of Whites Road, Southampton, was disqualified for six months after admitting three offences.
His Yamaha XJR had no front registration plate but motor patrol officers identified him due to his clothing and helmet.
Tobola was fined £750, £35 costs and a £15 victim surcharge.
The biker pleaded guilty to three speeding charges, which happened in June and July last year around Southampton.
He was clocked by cameras doing at 112mph in a 50mph limit along Mountbatten Way, 107mph in a 50mph limit along Mountbatten Way and 74mph in a 30mph limit in Maybray King Way.
The offences took place on the route that he used for commuting to work, police said.
PC Mick Gear, of Hampshire Constabulary, said: "A lot of riders seem to be under the misapprehension that, if they don't have front registration plates, they are untouchable by the law if they break speed restrictions.
"It's a great shame that thoughtless and inconsiderate bikers like these ruin the reputation of the majority of law-abiding motorcyclists."