Jobs axed at New Forest National Park Authority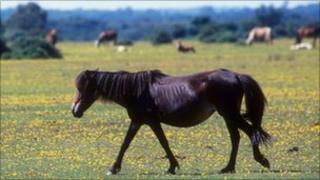 At least 10 posts are being axed from Hampshire's New Forest National Park Authority as part of budget cuts.
In December, the government announced it was cutting its funding by 21.5%, or £866,000, over the next four years.
The Department for Environment, Food and Rural Affairs' (Defra) money will be reduced from £4m this financial year to £3.1m by 2014/15.
Staff will also be asked to take voluntary redundancy and reduce their working hours.
The authority administers the 141,097 acre (571 sq km) New Forest National Park, including dealing with planning applications.
Other changes will see the authority share office accommodation with New Forest District Council.
Vacant posts will also not be filled and working hours will be reduced.
Chairman Julian Johnson, said: "This comes on top of the 5% saving we had to make within this financial year and does not include the impact of inflation and the loss of other grants.
"Nevertheless we have approached this challenge positively, carefully considering all the ways in which we could address the issues and coming up with a plan that uses a range of measures."