Dentist training centre opens at Portsmouth University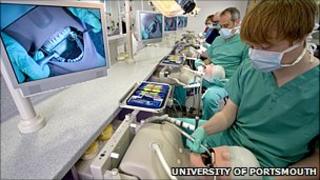 A new £9m centre for training dental professionals of the future opens in Hampshire today.
The University of Portsmouth's Dental Academy will be officially opened by junior health minister, Earl Howe.
Dental students will work with hygiene therapists and dental nursing students, as they would in practice.
Supervised by tutors, students also provide free treatment for 2,000 local people every year.
The new centre has 20 additional dental chairs, radiography facilities, a state-of-the-art instrument decontamination centre as well as seminar rooms.
Each year, 80 final year students from King's College London Dental Institute will be trained alongside dental nursing students from Portsmouth.
Clinical director John Weld said: "They learn to work together for the best advantage of the patient."