Southampton hospital cleaners back on strike over pay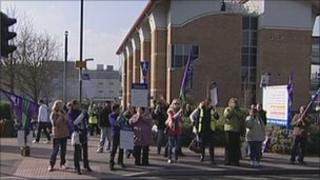 Hospital cleaning staff in Southampton are taking further strike action in a dispute over back-dated sick pay.
About 100 people manned a picket line outside the city's general hospital on the second day of a three-day walkout.
Unison said contract staff should have been paid the same wages as NHS-employed workers after the government agreed to fund the move in 2006.
The hospital said workers will get the same pay and conditions from April but the union wants sick pay back-dated.
A further 60-hour strike has already been announced for 14 March.
Southampton University Hospitals NHS Trust added that domestic staff had been paid sick pay since October 2010 after the trust increased contributions.
But Unison claims this should have been back-dated to 2006.
'Treated fairly'
Andy Straker, regional organiser for Unison, said: "For this action to come to an end, management need to call us back to the negotiating table with a suitable offer, it is in their hands.
"The cleaners want to be treated fairly and treated like all the other staff who work in the hospital. Is that really too much to ask?"
Cleaning services at the hospital have been provided by staff working for the contractor Medirest since the late 1990s.
The trust said it had agreed to provide funding to "uplift" both the pay and the terms and conditions of its cleaners to NHS level but could not implement the move until April.