Bendicks set to move 140 jobs from Hampshire to Germany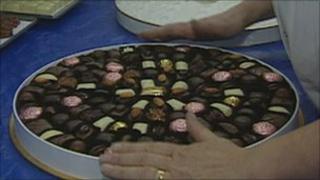 Up to 140 jobs are under threat at a chocolate factory in Hampshire with plans to move operations abroad.
Parent firm Storck is looking to shift its Bendicks mint chocolate production from Winchester to its home in Germany.
The Unite union said it was a "shock" and called on laws to make it harder for firms to move abroad. The city's MP said he was speaking to ministers.
Storck said it would not comment further until after a consultation on the proposed job cuts.
The sales and marketing departments at the Winchester factory, which has operated in the city for 44 years, would be unaffected, the company said.
Ian Woodland, Unite regional officer, said: "Bendicks has been part of the furniture around Winchester for years and years.
"For our members it is a great shock because good jobs are in short supply.
"Labour laws in this country are very weak, employers can up sticks and relocate abroad where labour is cheaper."
'Creating not losing'
Steve Brine, Conservative MP for Winchester and Chandler's Ford, said: "[Storck] has been making a loss on Bendicks chocolates here in the UK for a number of years, that's what the managing director has told me this morning.
"In talking to ministers, I will be saying to them 'what can you do to say to this company that it is better to stay here in Britain than to go abroad?'.
"What I am saying is that it shouldn't be that easier to do that... we should be creating jobs in the private sector not losing them."
In a statement Storck UK said: "[The firm] has recently announced the start of a consultation period to determine the future of its production facility in Winchester.
"Until the consultation is completed there will be no further announcements."
Bendicks was founded in 1930 when Oscar Benson and Colonel "Bertie" Dickson opened a small confectionery business in Kensington, London.