F1 school team gears up for national final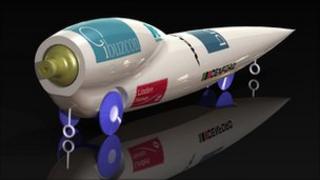 A miniature race car designed and built by four Hampshire students is through to the national final of the annual F1 in Schools competition.
The 13 and 14 year olds from Robert May's School in Odiham have spent 10 months working on the 25cm car, which can cover 20m in half a second.
Their car is built from balsa wood and powered by a compressed air canister.
Team "Blur" will be up against 27 other school teams at the event in London next week.
They will race the car several times side-by-side with competitors along 20m straights.
As well as their car's speed, the students will be judged through four interviews, a formal presentation and a marketing stand display in the "pit" area.
'Like a bullet'
The teenagers have dedicated much of their spare time to the project, guided and supported by the school's head of engineering Phil Cain.
He said: "It doesn't look like it's been done by schoolchildren. It's a work of engineering, it looks like a bullet."
Part of the project includes raising sponsorship and gaining help from local businesses, which have worked with the children on all aspects from wheel manufacturing to presentation skills.
The students have managed to raise £2,000 for the challenge without spending a single penny themselves.
Victory would earn them a place at the world finals, where entrants from over 35 countries will compete for the Bernie Ecclestone F1 in Schools World Championship trophy.
The winning students are also offered a full university scholarship at City University, London.